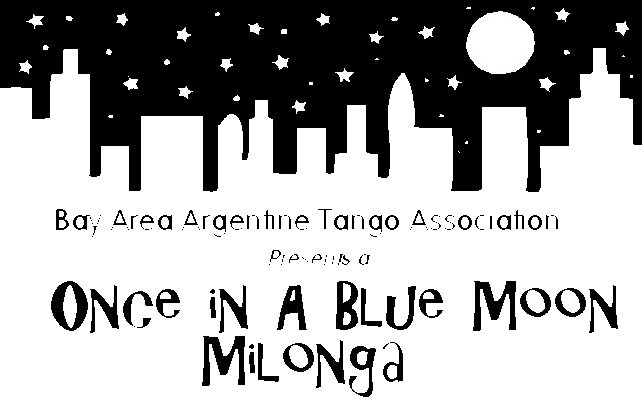 The Bay Area Argentine Tango Association hosts the 3rd Once in a Blue Moon Milonga, Saturday, March 29, 2003 at the Brazilian Cultural Center 3221 22nd Street, San Francisco. (Between Mission and Valencia) 3800 sq. ft of spring loaded wood dance floor in a great room with large windows and skylights.
Featuring:
Sorteo (raffle) includes:
The class with Pampa and Valeria starts at 8:00 pm,
the Milonga at 9:00 pm and ends at 1:00 am.
BATango Members entrance is $16 Non-Members: $18, Class with Pampa and Valeria $5 (class only with milonga entrance) Tickets must be prepaid to receive this price, $2 more at the door. All BAtango board members have tickets for sale.
Map to the ABADA-Capeara Brazilian Cultural Center.
For more information contact bayareatango@yahoo.com. If you are coming from out of town, let us know and we will help you find a place to stay.